I am a sucker for 80s action/exploitation flicks. While the seventies had some terrific action films, the eighties really delved into going straight for the throat with its forced masculinity and gun toting one men army flicks left and right. From "Death Wish" becoming more outlandish (we'll get to those) to films like "First Blood" kick starting the Rambo franchise along with so many others, it was easy for a lot of solid action flicks to get swept under the rug like the two we are talking about today. Vigilante films "The Exterminator" and its sequel are the subject of the very first double feature Friday.
The Exterminator (1980)
The Exterminator released in 1980 and directed by James Glickenhaus and is one of the prime examples of early 80's action/trash cinema. The plot pretty much follows Vietnam War Veteran John Eastland on his battle against New York crime including low life gangsters, Mobsters and human traffickers. The way we see him become a vigilante is pretty much based from a revenge story of his best friend being horribly paralyzed for life. Essentially this how most vigilante movies are started, however Eastland begins to go after any and all crime in New York city and makes for a very entertaining and gritty film. Robert Ginty plays Eastland with pretty much only two emotions: Calm and collected or pissed off and mad as hell. The moments I like the most are when Eastland is raging, when he has criminals at his mercy. I don't want to spoil too much but there are some great scenes including a car chase with Eastland pursuing on a motorcycle and a  mobster strung above a meat grinder which you can tell how that's gonna go. We also see Christopher George playing the detective who is hot on discovering who the exterminator really is. This culminates in the two meeting up at the end of the film with a quick tense finale that I won't spoil. I really like his character as he plays the part straight with a few soft comedic moments that work.  The film definitely relishes in the down and dirty feel New York seemed to have at the time and added to the exploitative nature the film had. Definitely recommended for fans of early gritty action films with solid pacing and a good cast.
The Exterminator 2 (1984)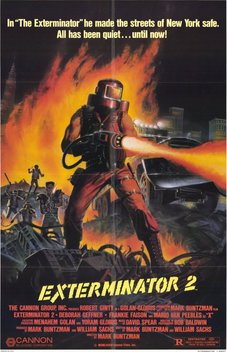 By 1984, the action genre was in full effect and Cannon Films had acquired the rights for the film and released its sequel entitled "The Exterminator 2". This film is very much a retread of the first but has almost more of a comic book feel to it. It comes from the beginning with Eastland listening to police scanners before heading out on the town with his flame thrower, bulletproof vest and welding mask. Eastland definitely has more of an antihero kind of style and look in this movie which comes from that Cannon charm. Now in terms of a sequel it really doesn't feel so much like one. John was pretty much found out at the end of the first film but here he is walking free not a care in the world. A bit of a plot hole yes but it's an 80's action movie, we aren't here for Shakespearean art we are here to see shit get blown up. And blown up it does. We see a gang led by their crazed leader X played brilliantly by Mario Van Peebles, ravaging New York looking to be the top of the top. Eastland who has secretly been taking out parts of X's gang gets caught in the middle when his girlfriend and other friend from 'Nam are killed by said gang. This basically sends the movie into overdrive toward the end with Eastland armoring up his friends garbage truck essentially into a tank with turrets and a huge plow on the front for an epic finale. The end action sequence definitely the tops first film however it feels like it lost some of the charm the original film had. But in the end I feel it is a fun enough film and definitely a product of its time. Recommended for fans of the first however it is not as grounded asis but is definitely still a good popcorn flick and has good entertaining value. Plus Ginty is still pretty badass in it.